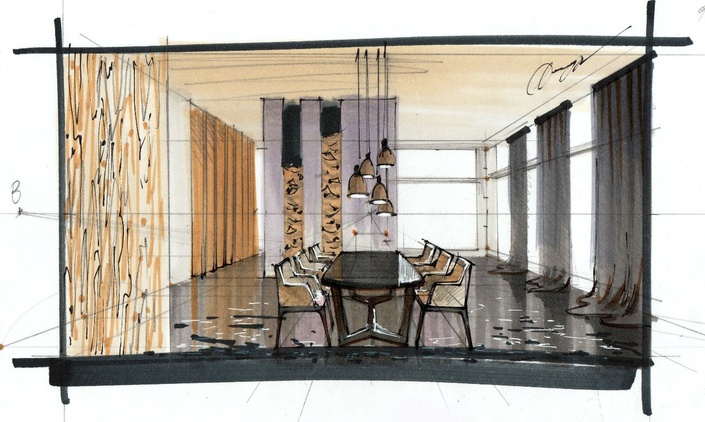 "BASE": a Course Which Teaches All the Basic Techniques You Need to Implement Sketching in Your Interior Design Practice
(For Interior Designers & Architects)
Watch Promo
---
✍🏼
(Level: Basic to Comprehensive)
---
---
✍🏼
Want to master interior sketching?
Learn how to make interior drawings from scratch with this step-by-step video course by an award-winning interior designer and teacher Olga Sorokina
---
🤓🎓
Level: "BASE" (for beginners)
Learn more about level "PRO" (for advanced)
(Bundle "BASE" + "PRO" at a special price here)
---
✏️
CHECK THIS 22 MIN SAMPLE LESSON FROM THE COURSE:
---
👩🏼‍🎨
Do you struggle with perspective drawing?
Let me help you!
Learn my proven step-by-step system to master interior sketching with markers in a couple of weeks and create your own professional-looking interior drawings!
Check my students' drawings below or with this hashtag #SorokinaStudents on Instagram to get inspired of what you will create soon.
---
🤓
MASTERING FREEHAND SKETCHING
Your goal is to learn sketching for your interior design projects?
Or maybe you want to draw interior sketch commissions in the future?
With this video course you will learn how to hand render interiors and furniture by using 1- and 2-points perspectives in addition to marker shading, check detailed program in the Course Curriculum below.
This course is perfect for beginners and it takes approximately one month to go through all the lessons (content of this course includes both theory and practice parts) and draw beautiful interior colour drawings.
More than 200 designers, interior design students, and architects have gone through this course and already "WOW-ed" their customers and fellow designers, mastered perspective and marker technique and took their drawing practice to the next level.
Join them today!
---

👩🏼‍💻
"Sketching is an essential skill for interior designers and architects as it helps us to quickly transfer our ideas from our heads onto the paper."
- Olga Sorokina www.olgaart888.com
🎓
WHAT YOU WILL LEARN HERE IN A NUTSHELL?
With this step-by-step online video course and its "follow along" tutorials you will:
+ Master 1- and 2-point perspective drawing of interiors

+ Learn how to draw furniture

+ Master marker technique from scratch
+ Learn how to render different textures
(e.g. popular "interior textures" include wood, metal, glass, textile, tiles etc)
Please check the detailed program below.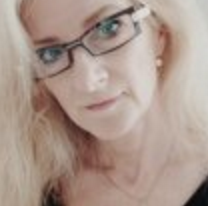 It is some of the best money I've ever spent!
"Some time ago I stumbled upon Olga's profile on
Instagram
. I was instantly taken by her ability to make design ideas come to life with her vivid and detailed sketches. Unfortunately I don't speak Russian, so when her sketch course came in English I didn't hesitate to sign up for it.
It is some of the best money I've ever spent. Olga is a splendid educator, and I am so pleased with the results I get.

The lessons are well structured, easy to follow, and you will quickly get nice results. She really loves sketching, and her passion goes into her teaching so you can't help to get smitten by her enthusiasm. I know, that my sketching skills are not yet close to Olga's level, but I will satisfy for less, and by the help of Olga and her online course, I know, I will get there.
I hope she will develop more of her courses in English, so I can continue evolving my sketching skills. If you would like to develop or improve your sketching skills I can only say, that by Olga's help you can't avoid improving your sketching."
- Betina Mølvang
, interior designer, Copenhagen, Instagram: @betinamaj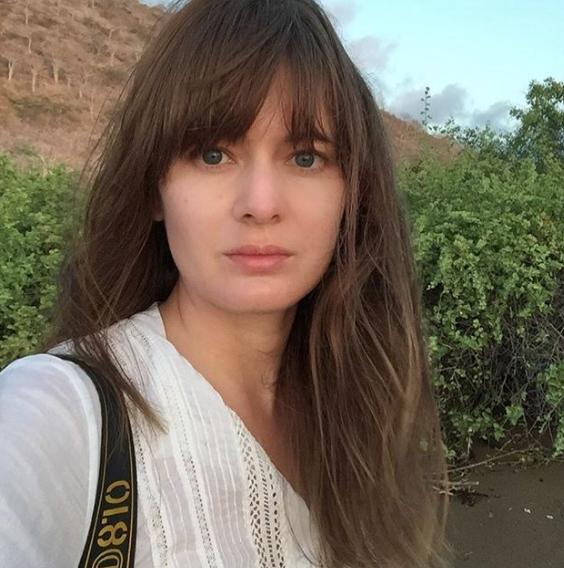 What an amazing course! Thank you Olga!

"These lessons were possibly the best part of the week!
As a designer I learned how to sketch at school but unfortunately never really developed the skill… So Olga's course was a great way to brush up on the principles of perspective and along the way I also picked up a whole suitcase of tricks on how to make my sketches look really professional!
The course is fun, easy to follow, extremely well organised and after each lesson I felt like I made a whole lot of progress! And the price is so reasonable!"
- Nadezhda Alexander
, interior designer, London, Instagram: @TheSiberian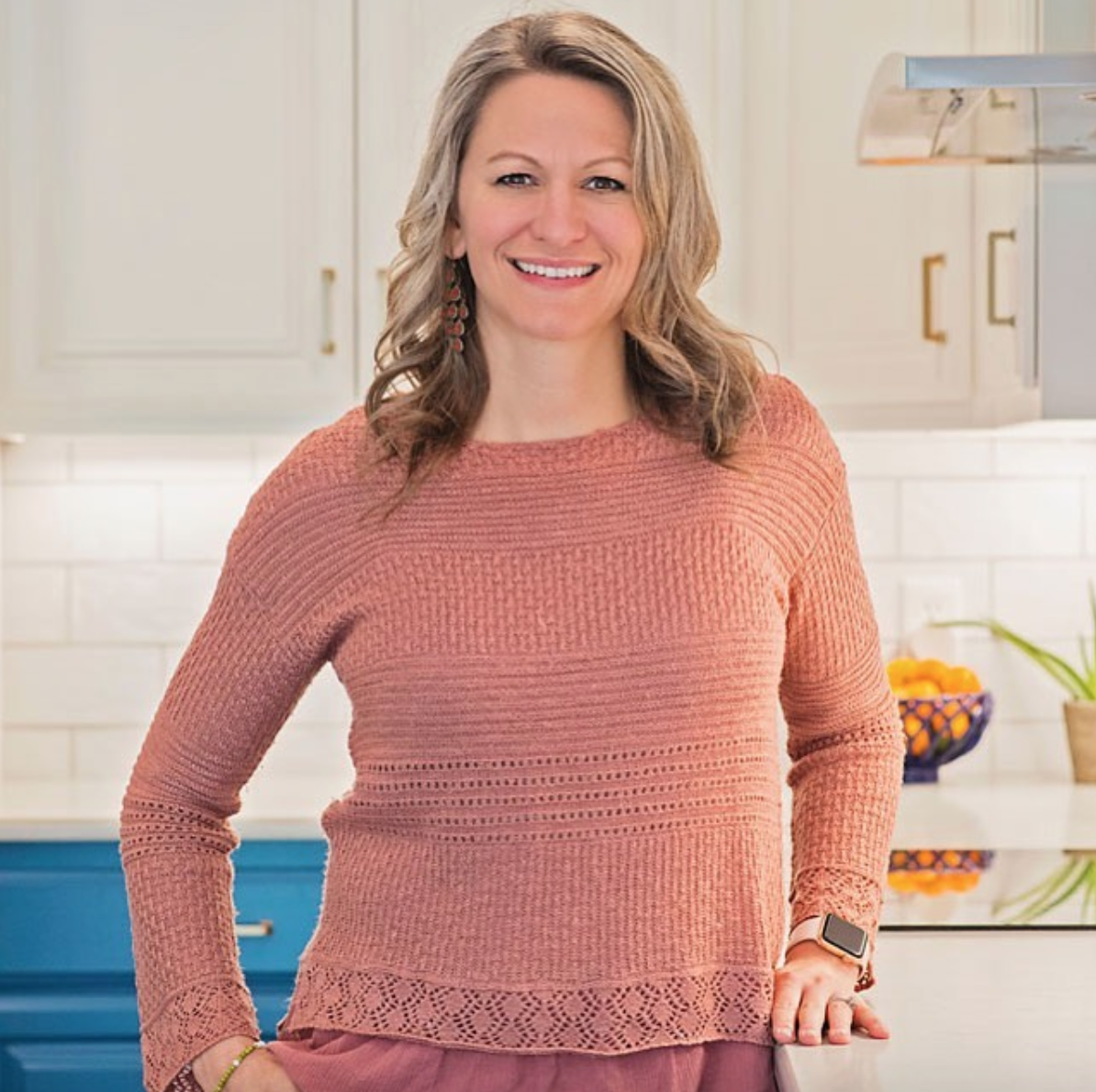 I am blessed to have purchased your video course!
"I love your art and am blessed to have purchased your course. Your talent is amazing! This is an excellent course — definitely worth checking out!"
- Rebecca Robinson, interior designer, Tennessee, Instagram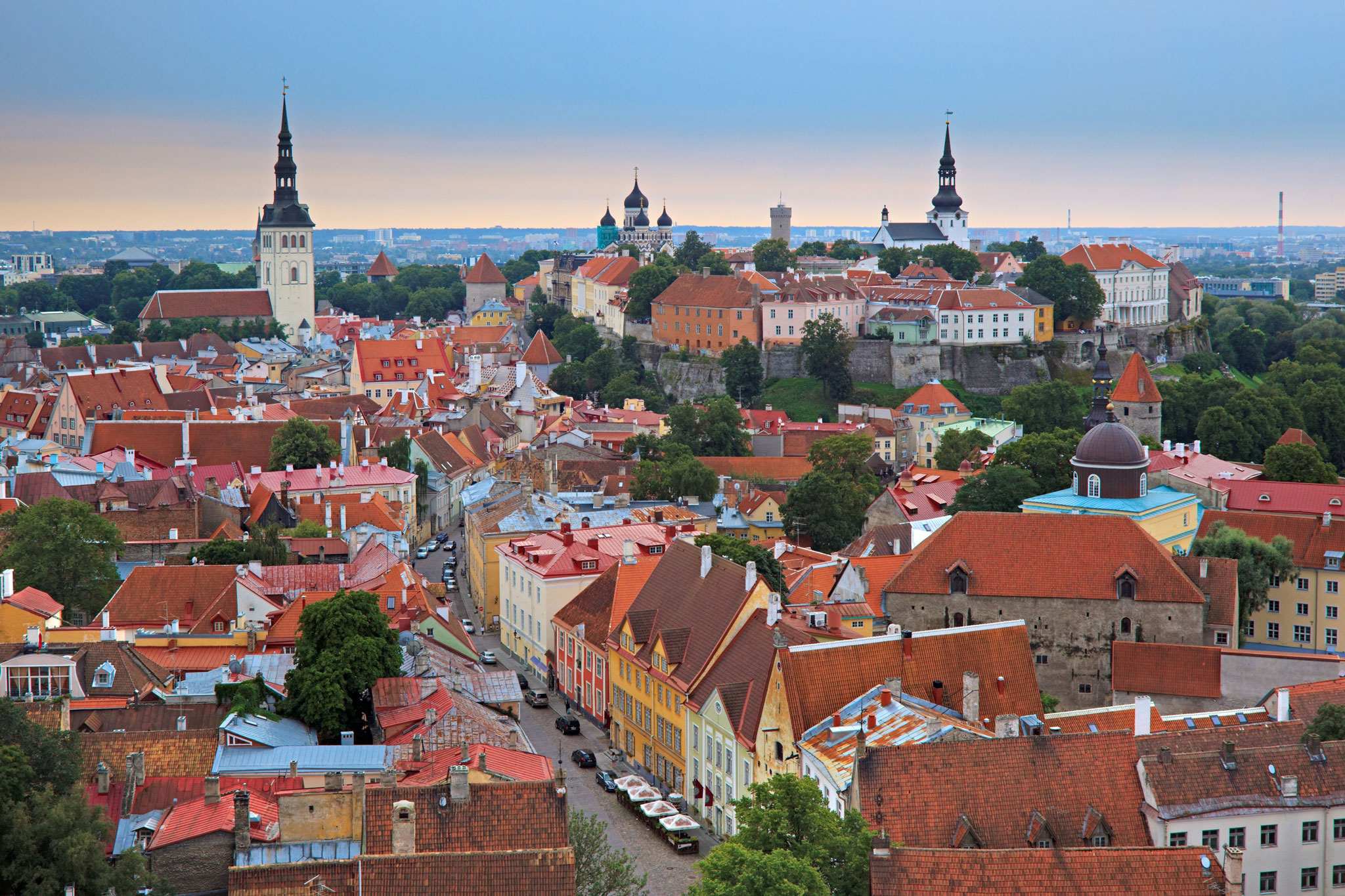 Amazing courses!

"I made BASE and PRO courses with Olga and I want to give her all the best compliments! The content is amazing and very good work she did with her courses!"
- Fabrizio Govoni, interior designer, Estonia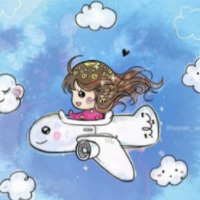 Lessons from the course are so interesting!
"This is an excellent course! Lessons from BASE are so interesting and visual. Perspective drawing and colouring interiors with markers became easy for me after this course. I found Olga on YouTube "olgaart888" and was soooo happy to learn from her!"
- Jameela Bintook, sketcher and interior design student, Mail: [email protected]
---
👩🏼‍🎨
Your access to the course is unlimited
---
---
🎓
In "BASE" I go over 1- and 2-point perspectives, marker techniques, composition and interior design drawing hacks.
After 5 step-by-step core lessons from the PART I of the course you will make 5 professional marker sketches: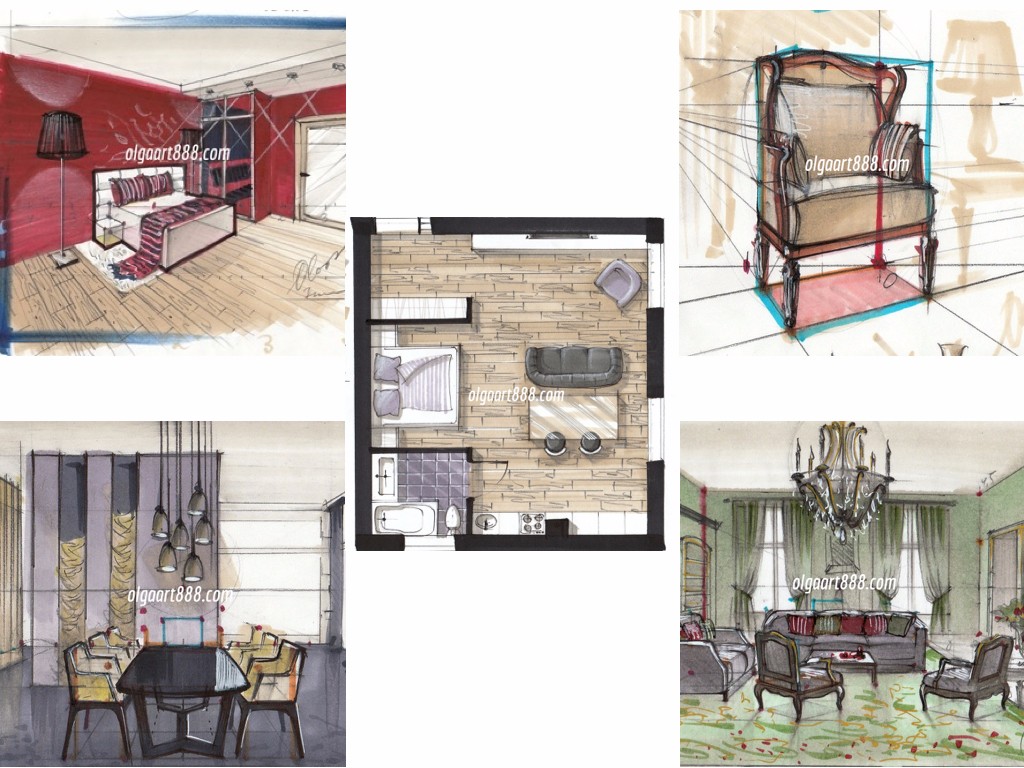 WHAT'S INSIDE PART I?
Check in this 1 min video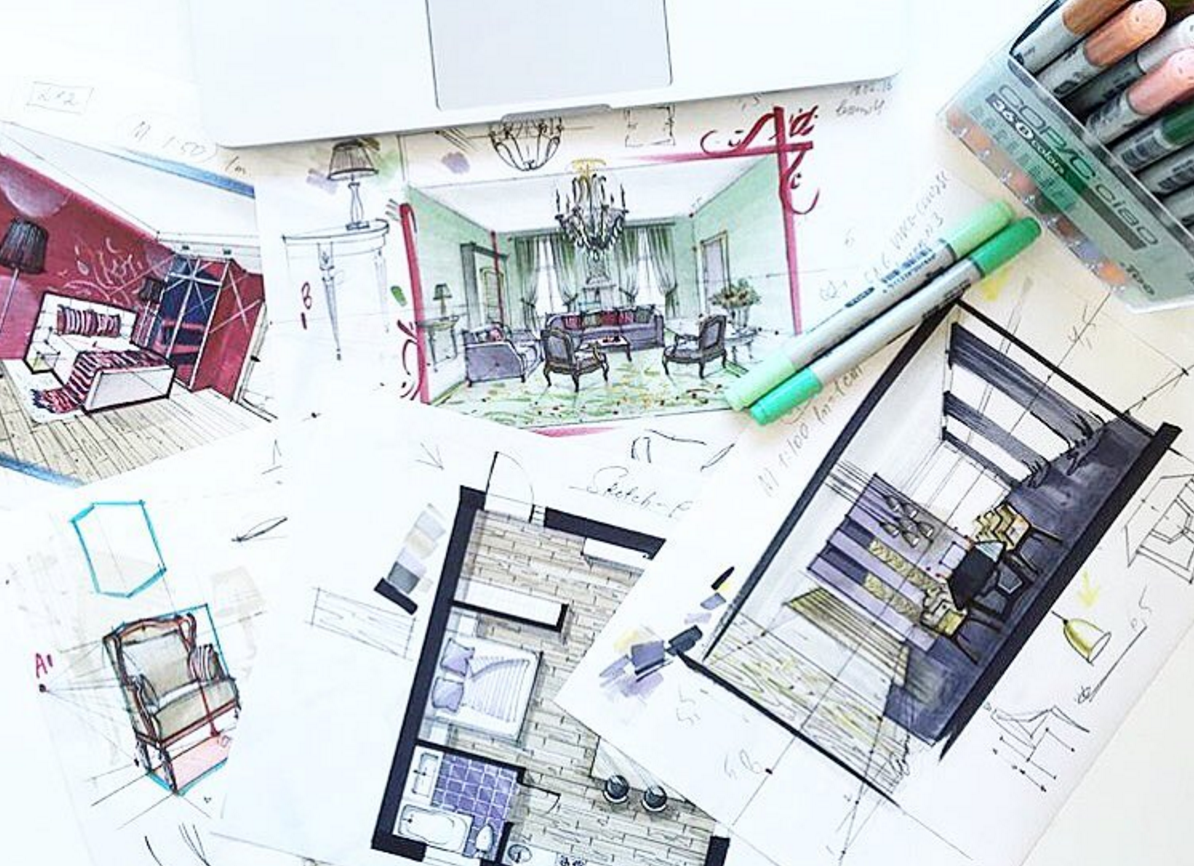 ---
🎓
"BASE" VIDEO COURSE PROGRAM
PART I
Lesson 1
Sketch of a bedroom in 2-point perspective (50 min)
I this lesson we will draw a bedroom interior in 2-point perspective. Also we are going to learn here basics in interior design drawing. I will cover such fundamentals like: vanishing points, horizon line, chiaroscuro, concept of aerial perspective. After this lesson you will understand how to work with markers (like Copic, Promarker, Chartpak etc), how to make beautiful gradients with them and how to render different kinds of textures, for example glass, metal, fabric, wood, mirror.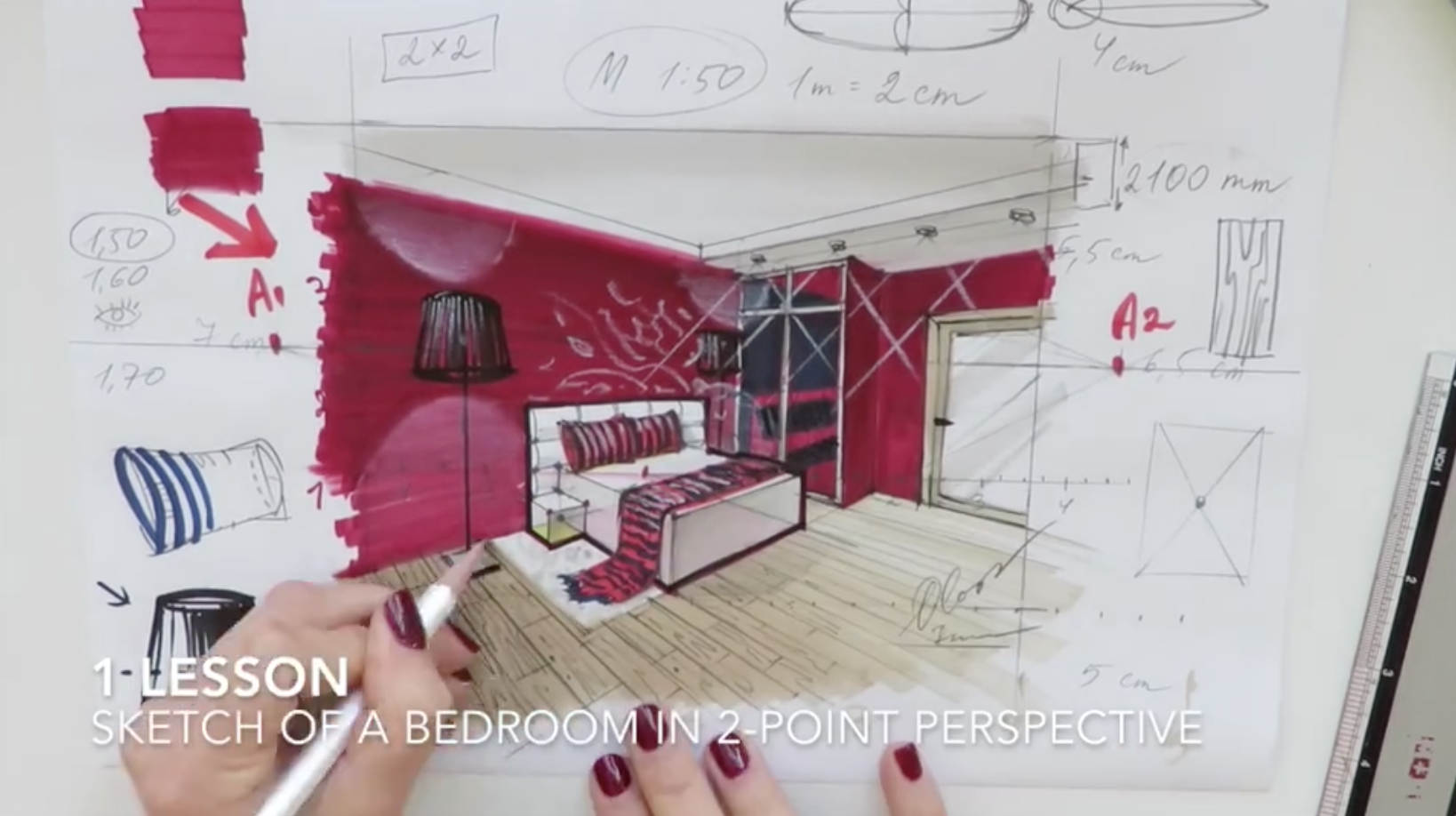 ---
Lesson 2
Sketch of a classical armchair in 2-point perspective (30 min)
This lesson is all about cementing our knowledge about 2-point perspective from previous lesson, but this time hand rendering of a classical armchair will be our point of interest. After this lesson you will understand how you can draw complex objects via simple forms.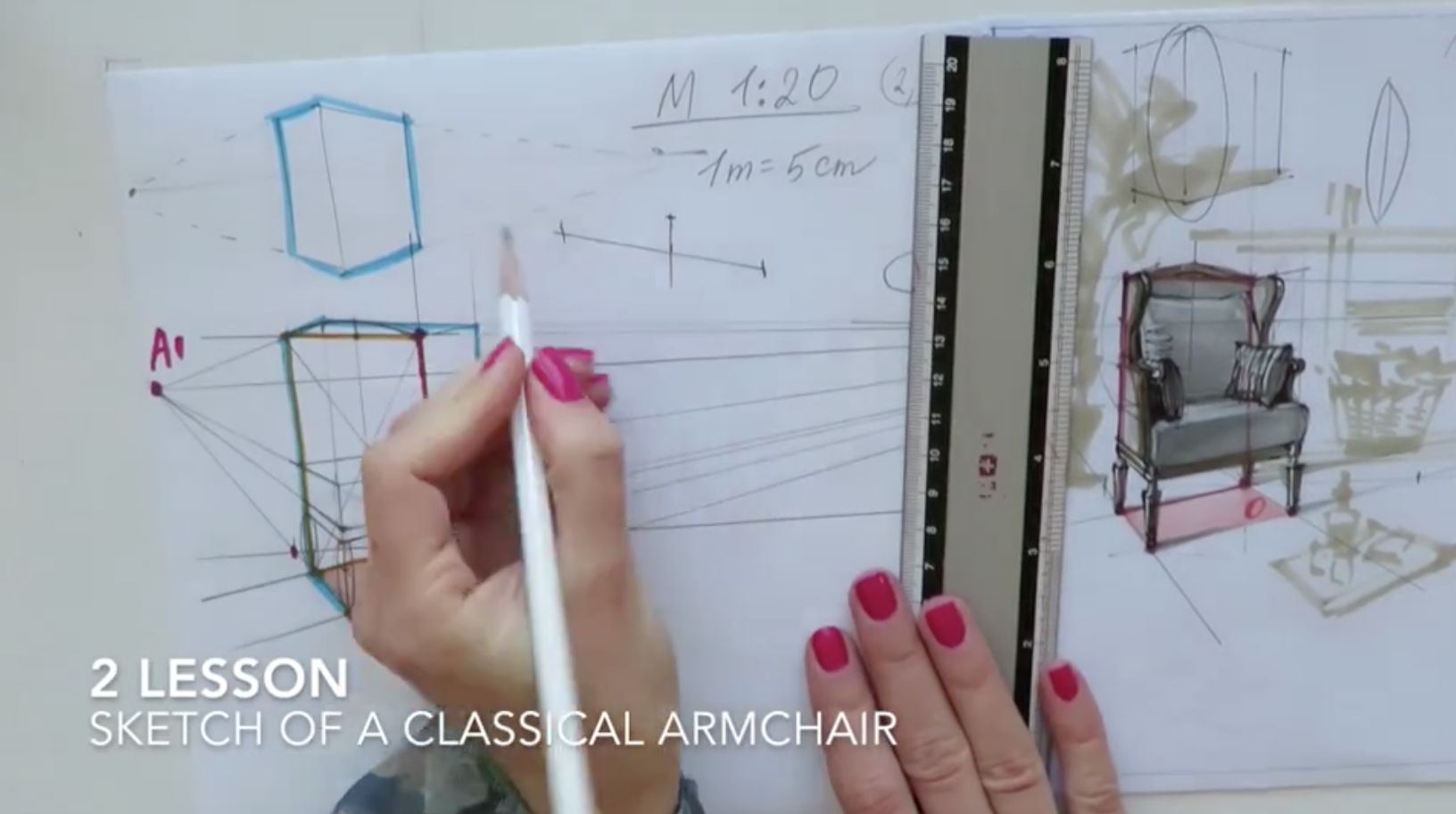 ---
Lesson 3
Sketch of a dining room in 1-point perspective (60 min)
We are going to make here a stylish sketch of a dining room in minimalistic Scandic style. Here I will introduce you to the concept of 1-point perspective. As for the textures, lacquered surfaces and wood will be our focus.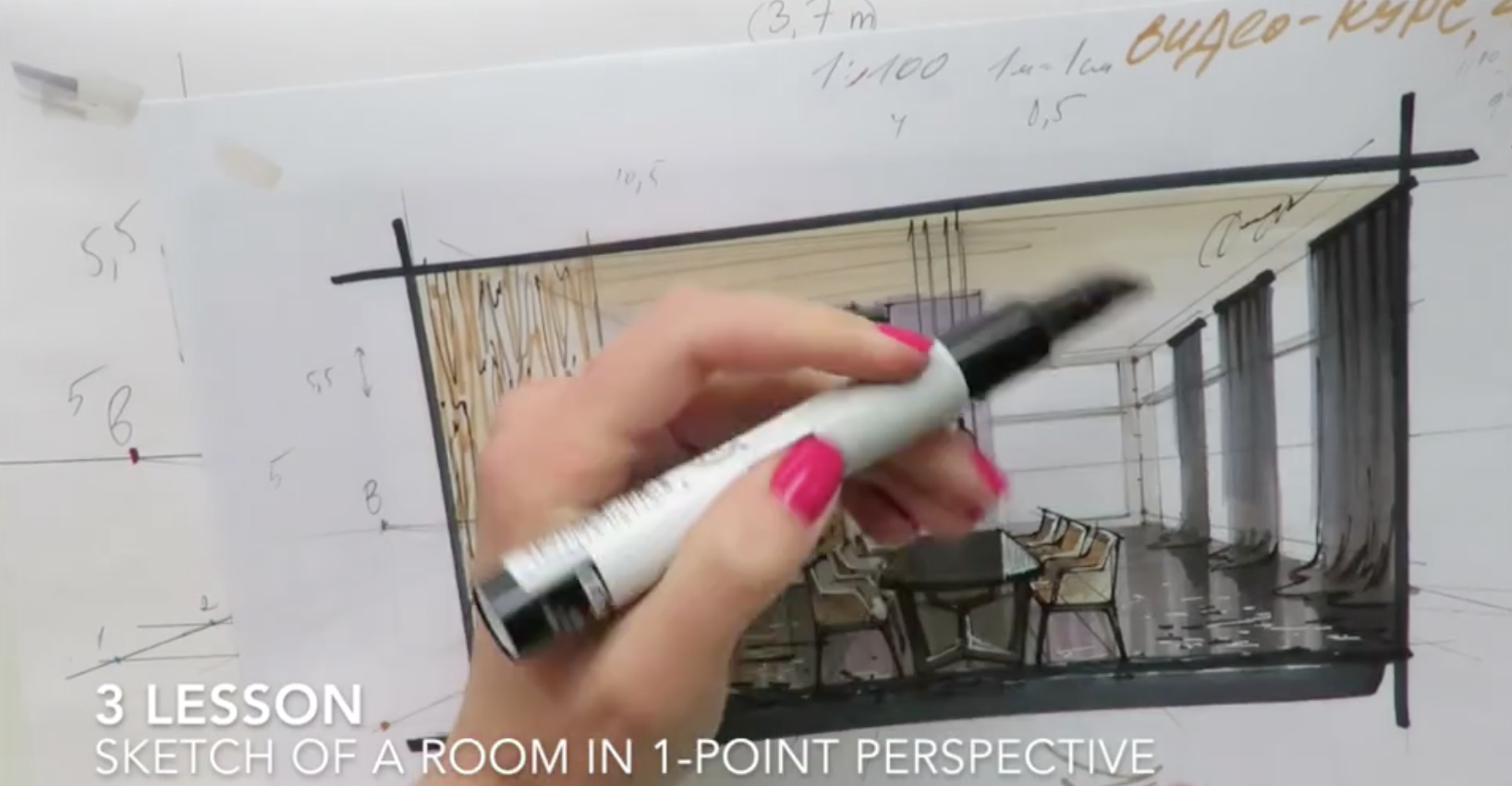 ---
Lesson 4
Sketch of a living room in combined perspective (70 min)
Here we will combine our knowledge about 1- and 2-points perspectives in one drawing of a living room in Classic French style. Textures covered in this lesson: crystal, textile, wood. You will perfect and polish your skills which have been built in previous lessons.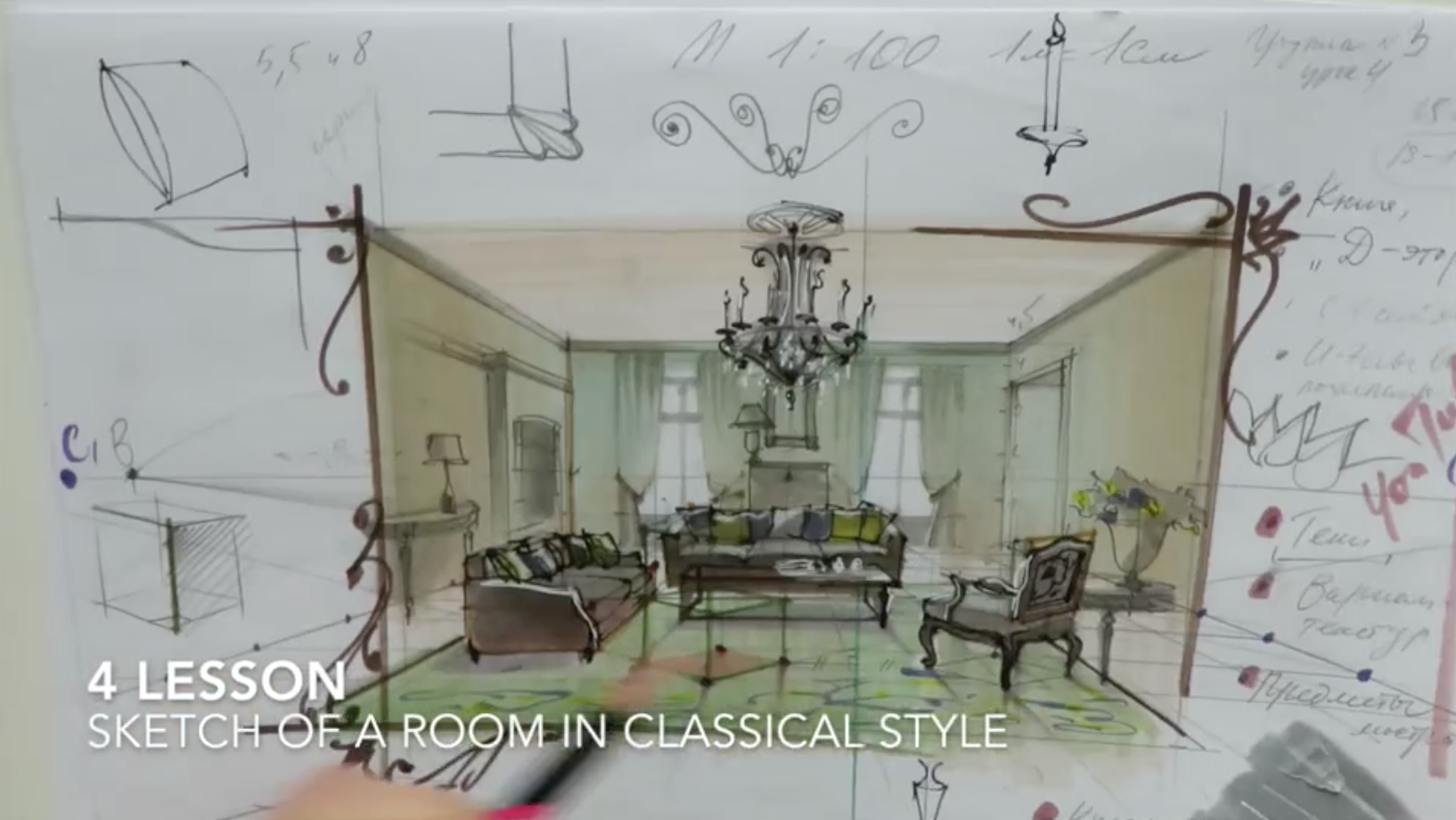 ---
Lesson 5
Sketch-plan of a studio apartment (30 min)
This lesson will be all about creating an incredibly-looking furniture layout in markers in only 30 minutes! Without time lapse, all in real time. You will fall in love with this one, I promise you! Textures covered here: ceramic tile, glass, wood, textile.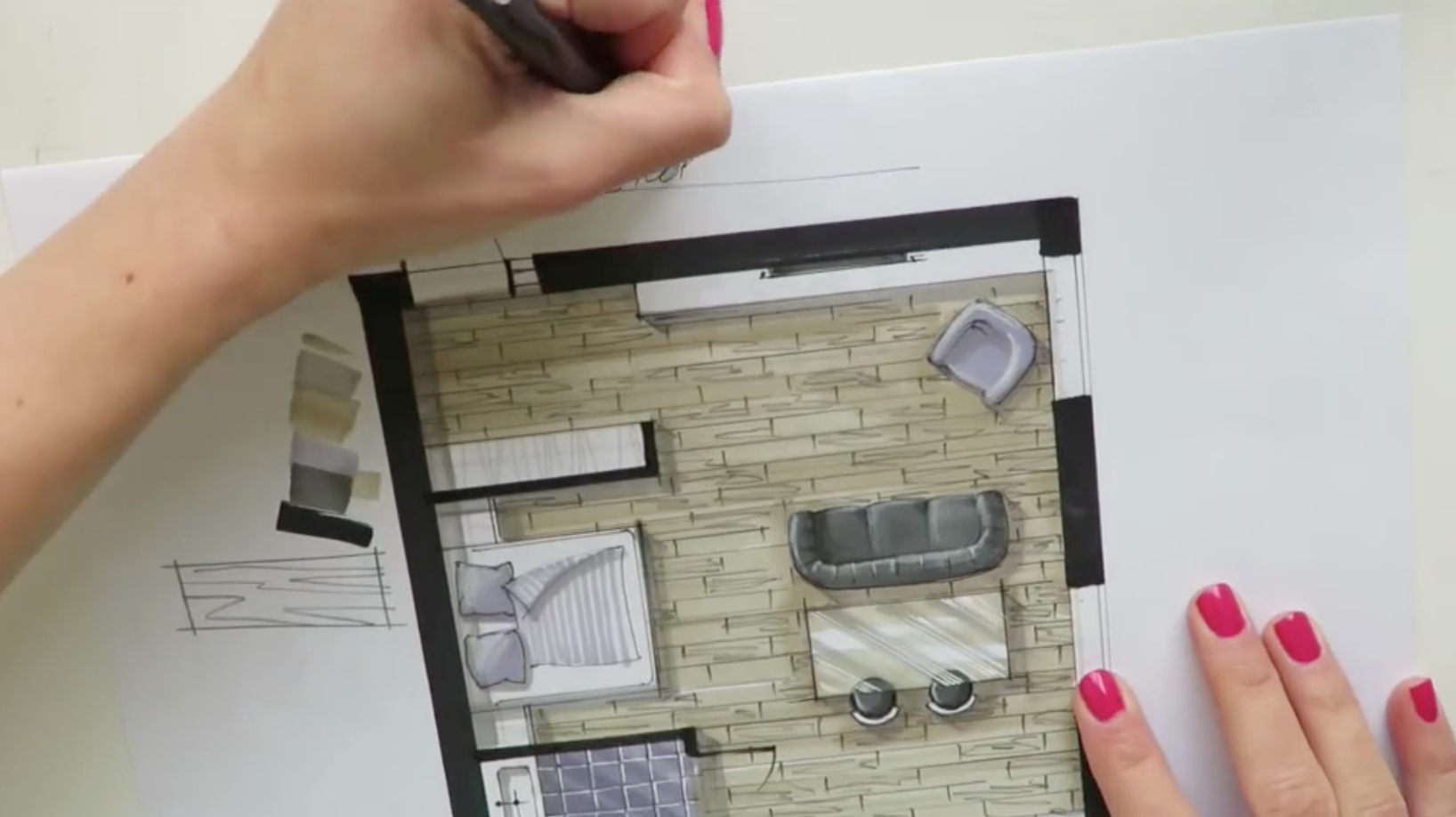 ---
PART II
Bonuses

+ Theory part (my book "The SKETCH" in PDF format is included)
+ Special exercises to train your hand
+ Top 7 mistakes in interior design drawing
+ Danish sofa: velvet texture (22 min)
+ Quick sketch of Scandinavian interior (27 min)
+ How to draw 2-point perspective (2 videos)
+ Step-by-step sketch-plan guide (PDF)
And more!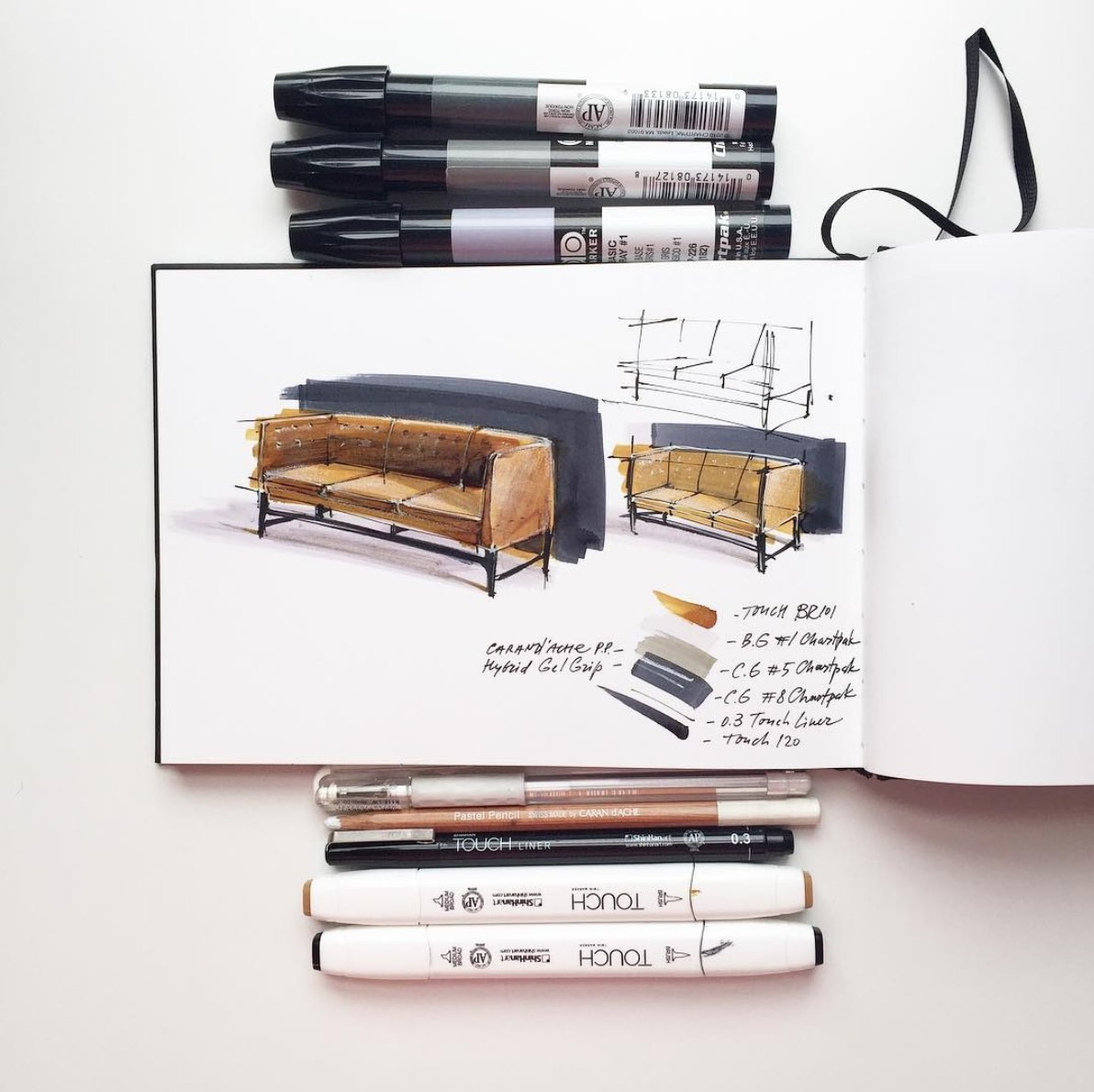 ---
👩🏼‍🎨
This course is a great time and money investment for interior designers as well as interior design students!
---
Course Curriculum
🎓INTRO
Available in days
days after you enroll
🎓THEORY: my book "The SKETCH" & selected blog articles
Available in days
days after you enroll
✏️🎓
STUDENTS' DRAWINGS
Here are some examples of my students' drawings from this course:
Check more drawings made by my students with this hashtag #SorokinaStudents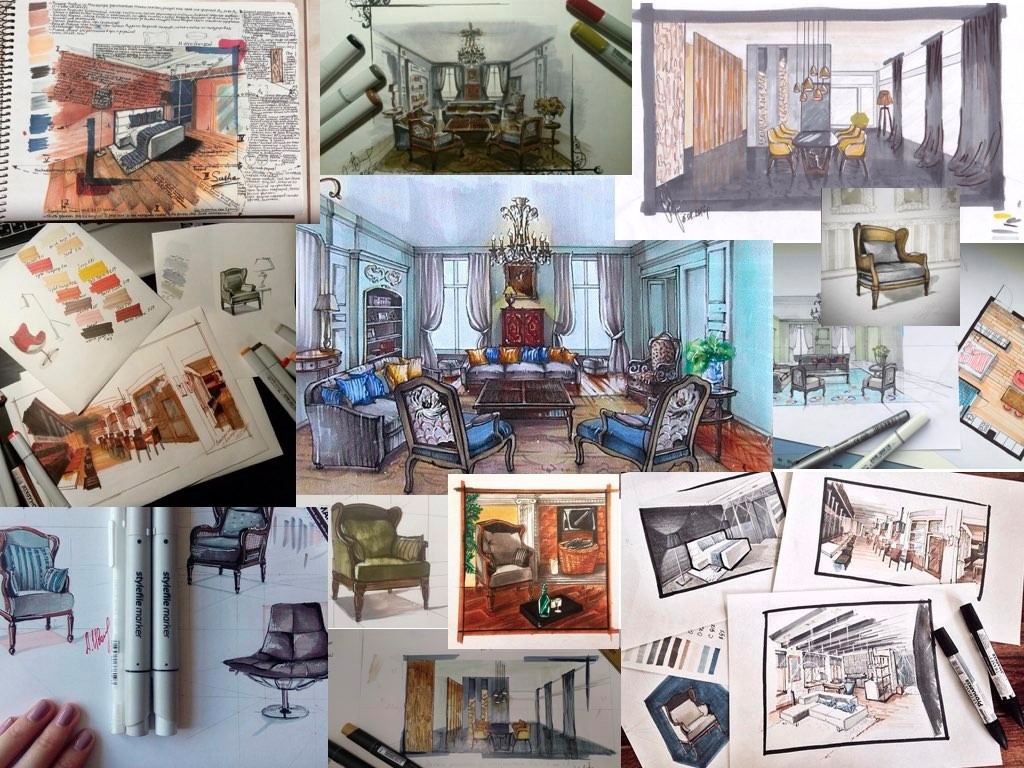 ✏️
Some more examples of students' drawings from "BASE":
---
👩🏼‍💻
You can learn from any device you wish: PC, iPad, smartphone! This course looks great on any platform you like.
---
---
👩🏼‍🎨
Price increase soon! Enroll today!
P.S. With a really easy sign-up process
---
✏️
MATERIALS FOR THIS COURSE
🖍Markers paper (Canson, Copic, Molotow), better 70 g/m2, as this kind of paper save marker pigment so they can live longer and be of use. Regular paper also will be fine.
🖍Grey markers (at least 3 greys: light, medium and dark, usually marked as №1, №3, №5)
🖍Coloured markers (minimum 5 colours: beige or sand, dark brown or chocolate, olive, dark red, dark blue)

🖍White pastel pencil (for example Caran'd'ache)

🖍White ink jel pen (for example Jelly Roll)

🖍Black liner or black pen (for example Copic Multiliner of Faber Castell)

🖍Pencil

🖍Eraser

🖍Ruler
Plus you can check my blog-post which I created specially to help you with your best marker choice: here
Or watch my short video (10 min) about my Minimum and Maximum sets for interior design drawing here
🤓🎓✏️
Meet your instructor: Olga Sorokina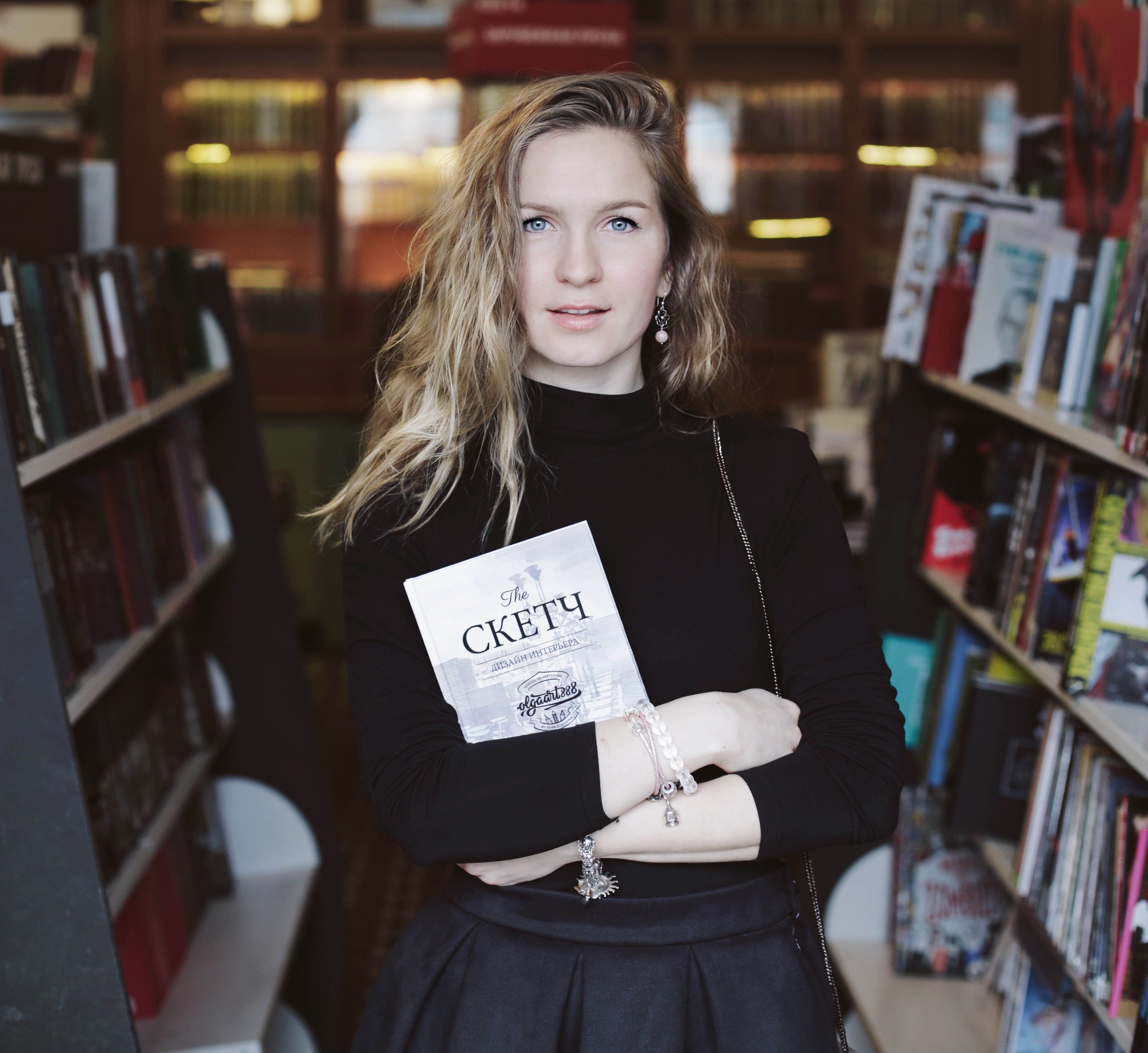 Website: www.olgaart888.com
Instagram: olgaart888

YouTube: "Olga Sorokina"
Olga Sorokina is an interior designer, freehand sketch trainer and author of a book on sketching with markers "The SKETCH" (now available on Amazon). Originally she is from Saint-Petersburg, Russia. Lived for 2,5 years in Copenhagen, Denmark, now lives in Auckland, New Zealand.
Background: graduated at Saint-Petersburg State Art Academy (Russia), MSc in Arts (interior design), 2004-2010.
Frequently Asked Questions
When does the course start and finish?
The course starts now and never ends! It is a completely self-paced online course - you decide when you start and when you finish.
How long do I have access to the course?
How does lifetime access sound? After enrolling, you have unlimited access to this course for as long as you like - across any and all devices you own.
What kind of materials do I need for the lessons?
Basically, you will need markers and paper. Please check this blog-post I created specifically to answer this question: http://www.olgaart888.com/blog-in-english/markers or if you prefer video check it here: https://www.youtube.com/watch?v=1NC5x8He0JM
Are there any VAT taxes if I live in the EU?
Yes, the tax percentage, which is calculated based on the EU country, will be added on top of the original course price.
I have a question, how can I connect with you?