✏️

This video-course covers how to hand render interiors by using 1- and 2-points perspectives in addition to marker shading.
---
CHECK SAMPLE LESSON FROM THE COURSE (22 MIN)
---
👩🏼‍🎨
In this 5 lessons video course "BASE" (+ bonuses) I go over 1- and 2-point perspectives, marker techniques, composition and interior design drawing hacks.
After 5 step-by-step core lessons you will make 5 professional marker sketches: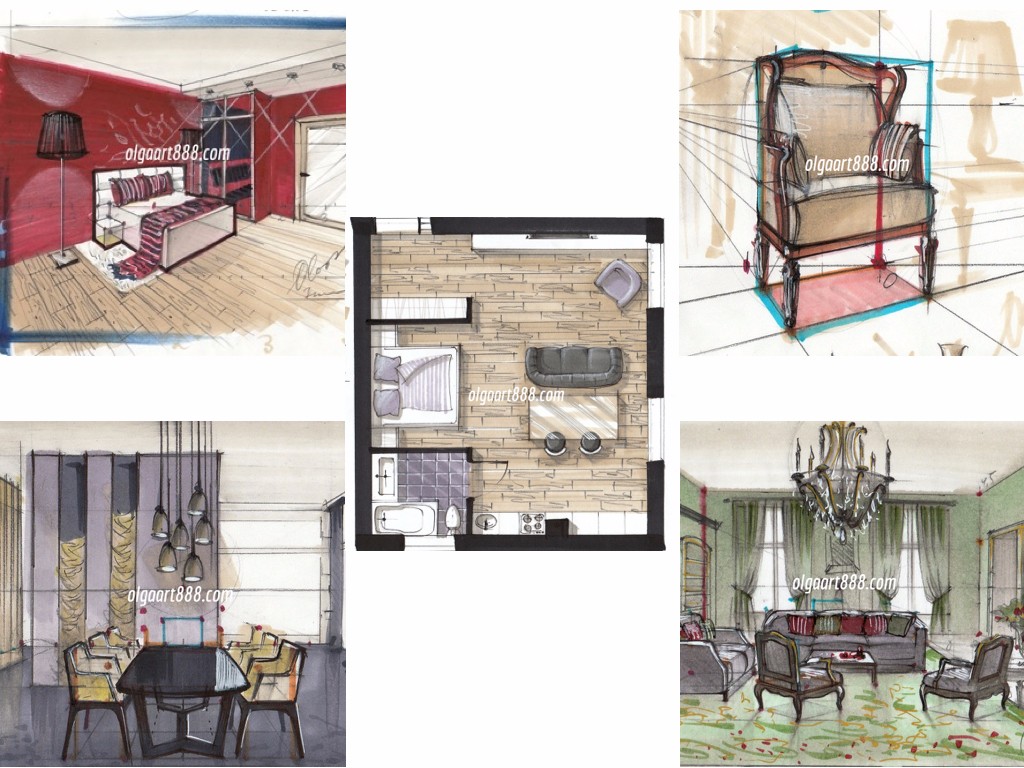 ---
👩🏼‍🎨
Do you struggle with perspective drawing?
Let me help you! Learn my proven step-by-step system to master interior sketching with markers in a week or less and create your own professional-looking interior drawings!
---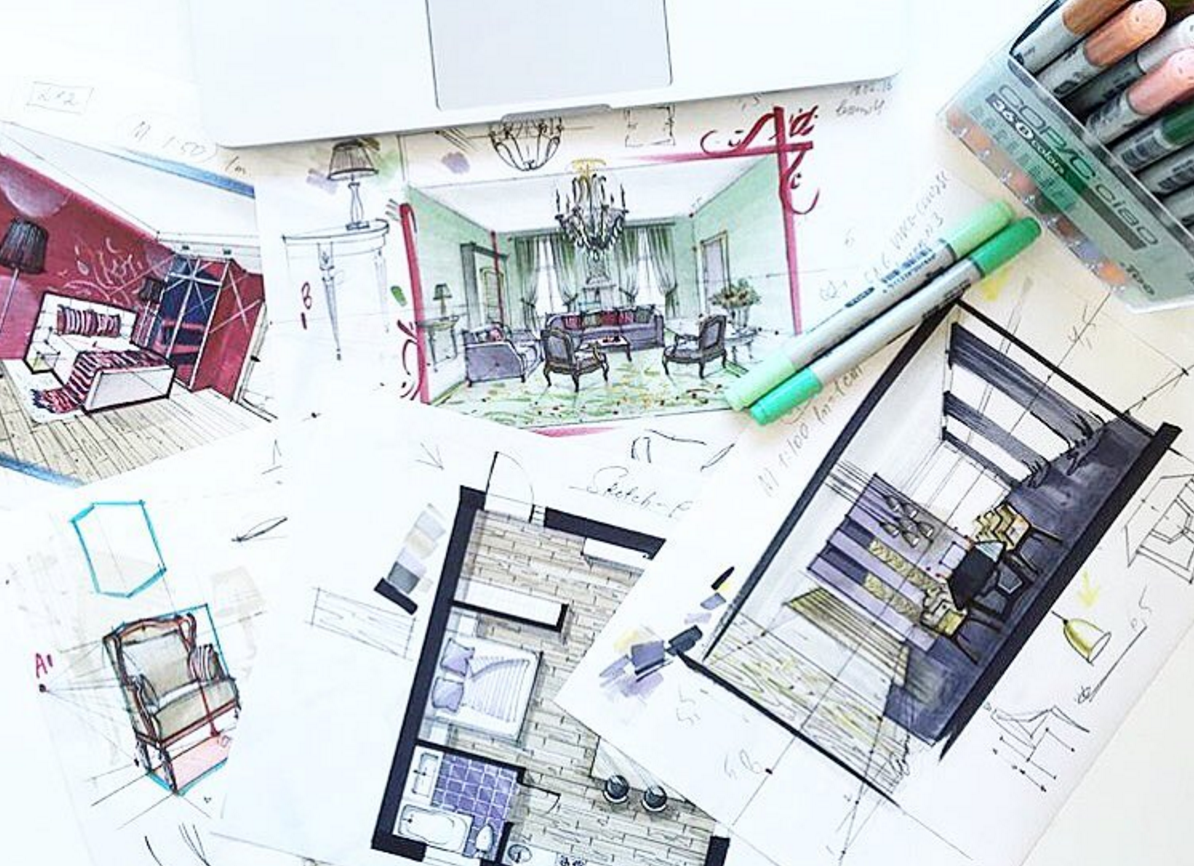 ---
👩🏼‍🎨
Your access to the course is unlimited.
---
🎓
"BASE" VIDEO COURSE PROGRAM
Lesson 1
Sketch of a bedroom in 2-point perspective (50 min)
I this lesson we will draw a bedroom interior in 2-point perspective. Also we are going to learn here basics in interior design drawing. I will cover such fundamentals like: vanishing points, horizon line, chiaroscuro, concept of aerial perspective. After this lesson you will understand how to work with markers (like Copic, Promarker, Chartpak etc), how to make beautiful gradients with them and how to render different kinds of textures, for example glass, metal, fabric, wood, mirror.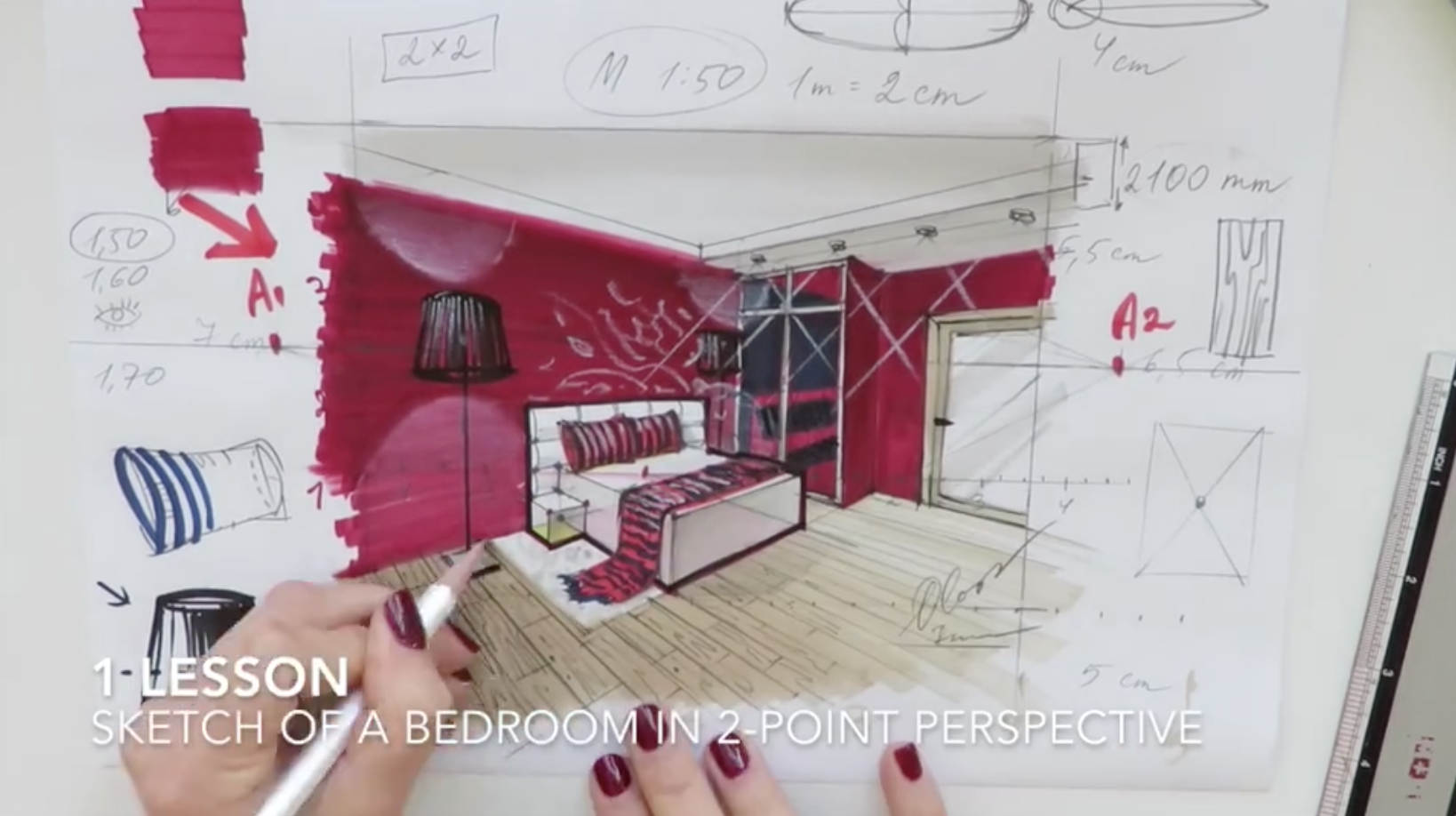 ---
Lesson 2
Sketch of a classical armchair in 2-point perspective (30 min)
This lesson is all about cementing our knowledge about 2-point perspective from previous lesson, but this time hand rendering of a classical armchair will be our point of interest. After this lesson you will understand how you can draw complex objects via simple forms.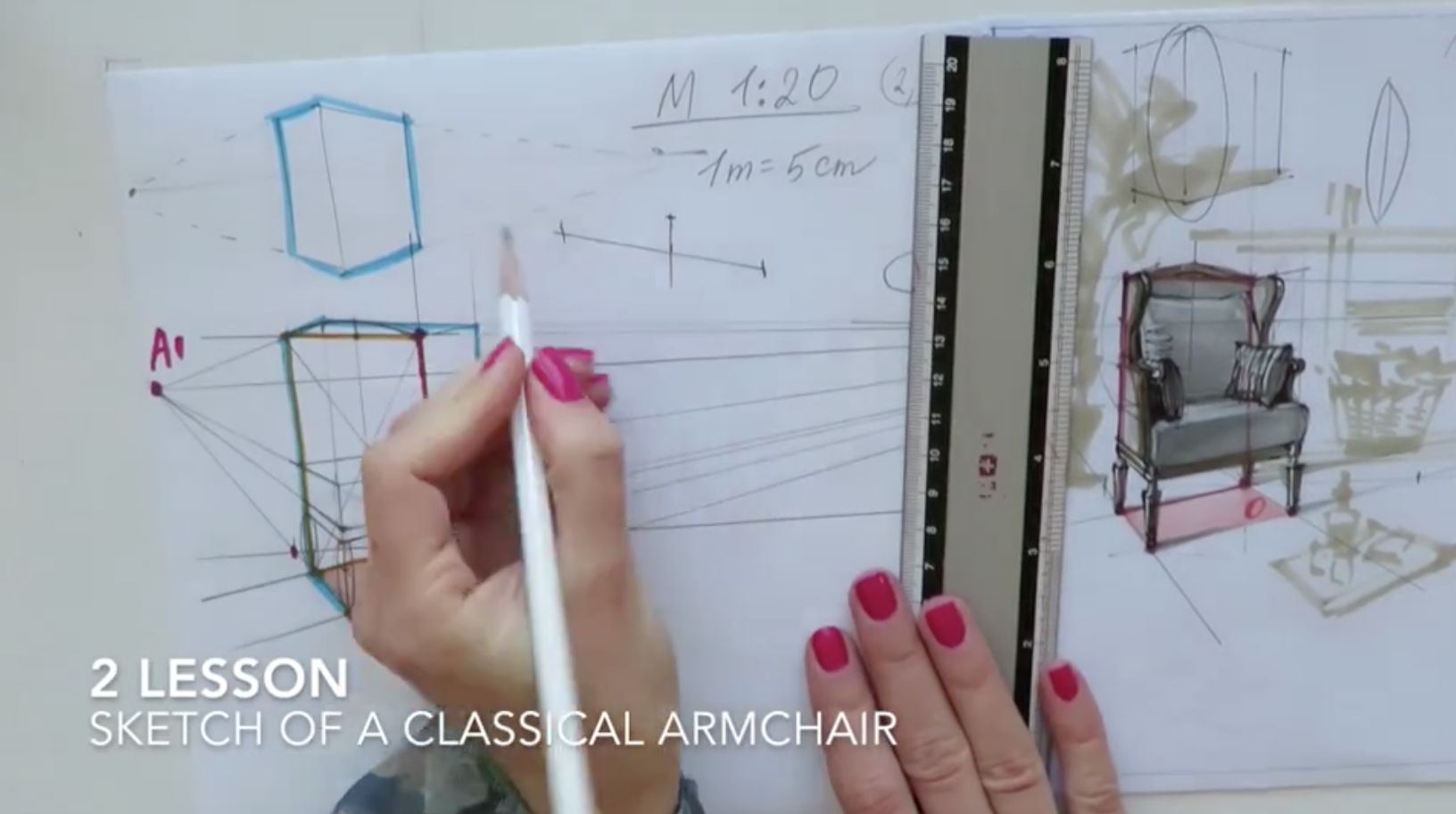 ---
Lesson 3
Sketch of a dining room in 1-point perspective (60 min)
We are going to make here a stylish sketch of a dining room in minimalistic Scandic style. Here I will introduce you to the concept of 1-point perspective. As for the textures, lacquered surfaces and wood will be our focus.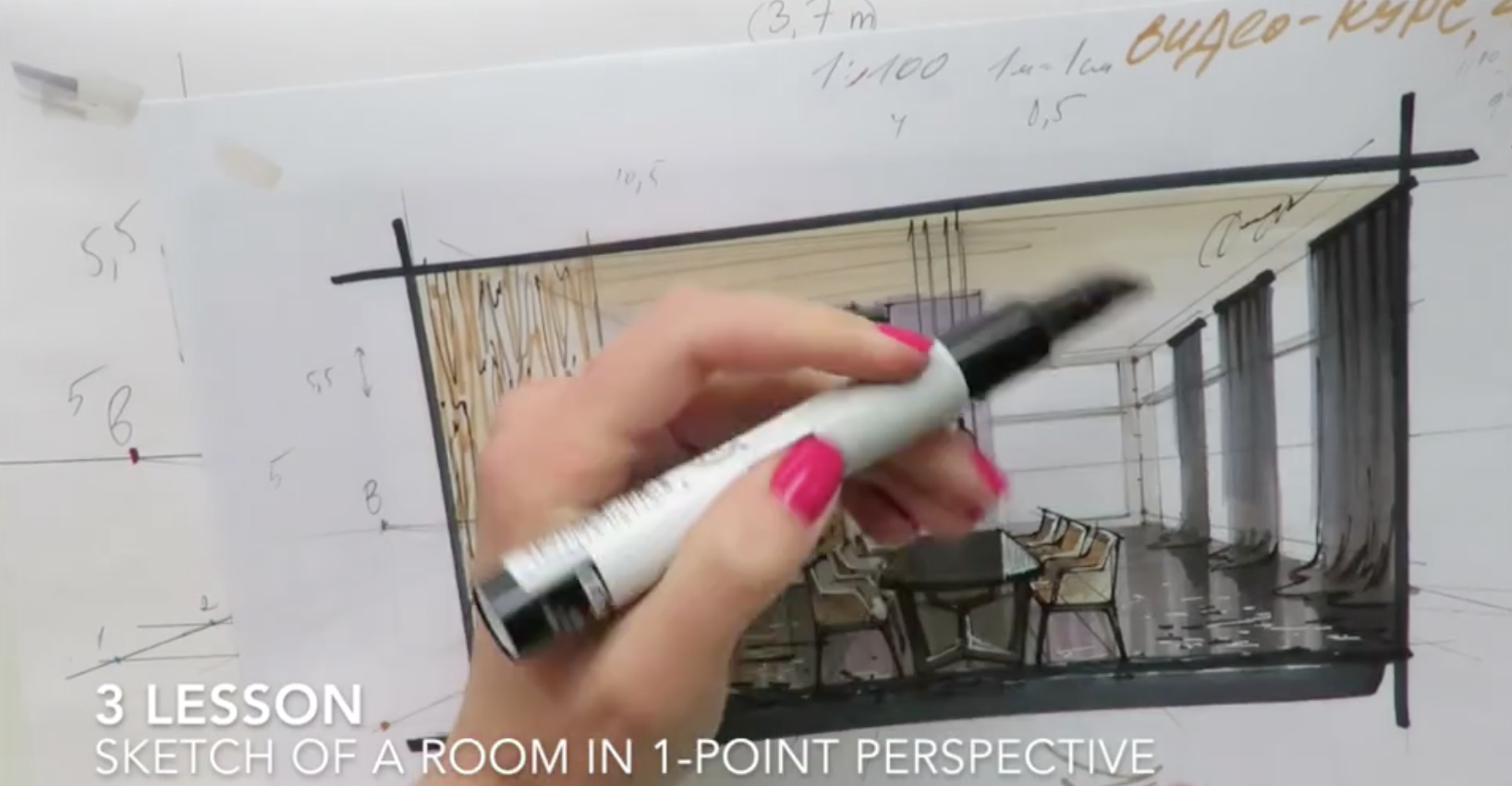 ---
Lesson 4
Sketch of a living room in combined perspective (70 min)
Here we will combine our knowledge about 1- and 2-points perspectives in one drawing of a living room in Classic French style. Textures covered in this lesson: crystal, textile, wood. You will perfect and polish your skills which have been built in previous lessons.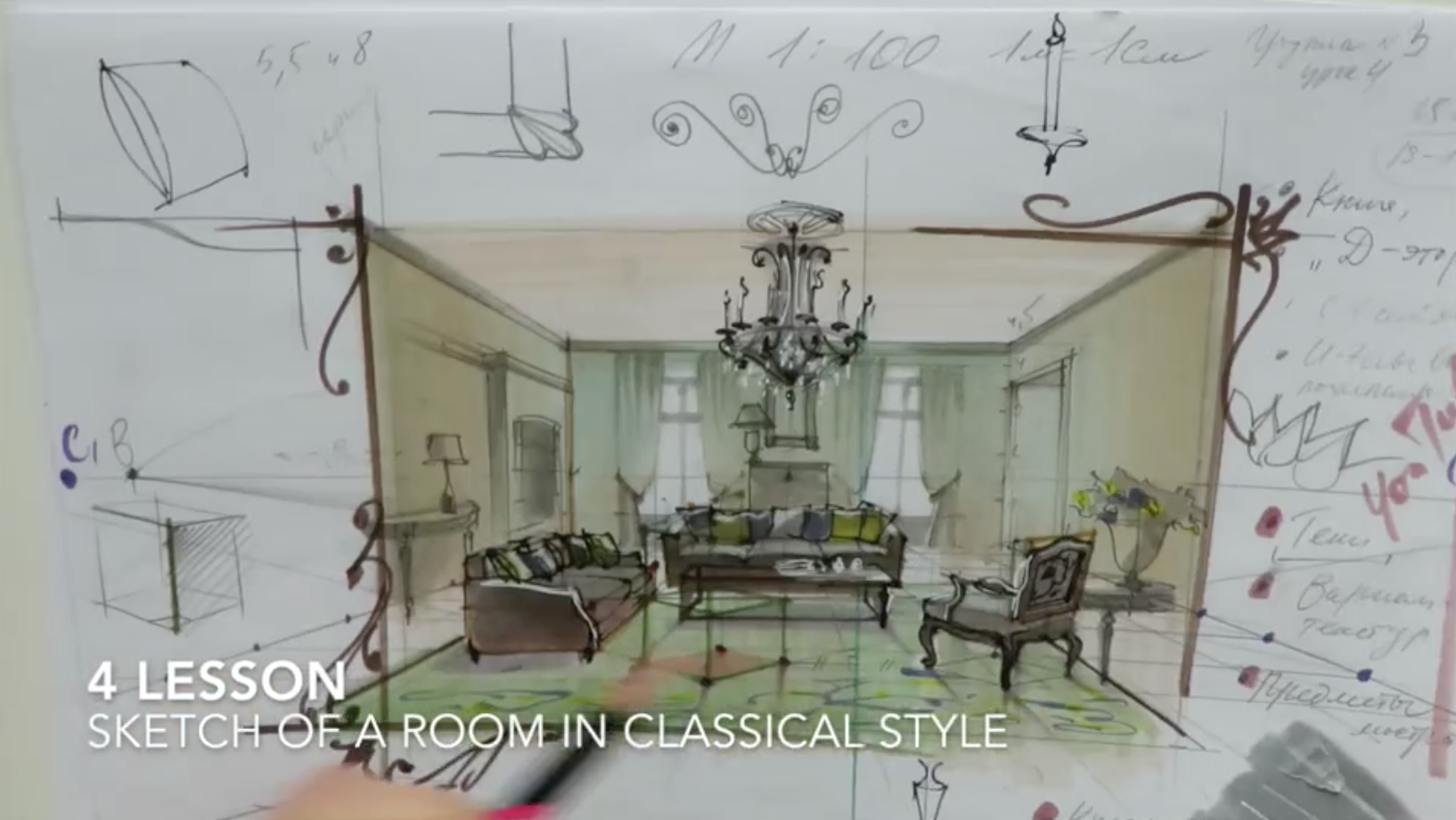 ---
Lesson 5
Sketch-plan of a studio apartment (30 min)
This lesson will be all about creating an incredibly-looking furniture layout in markers in only 30 minutes! Without time lapse, all in real time. You will fall in love with this one, I promise you! Textures covered here: ceramic tile, glass, wood, textile.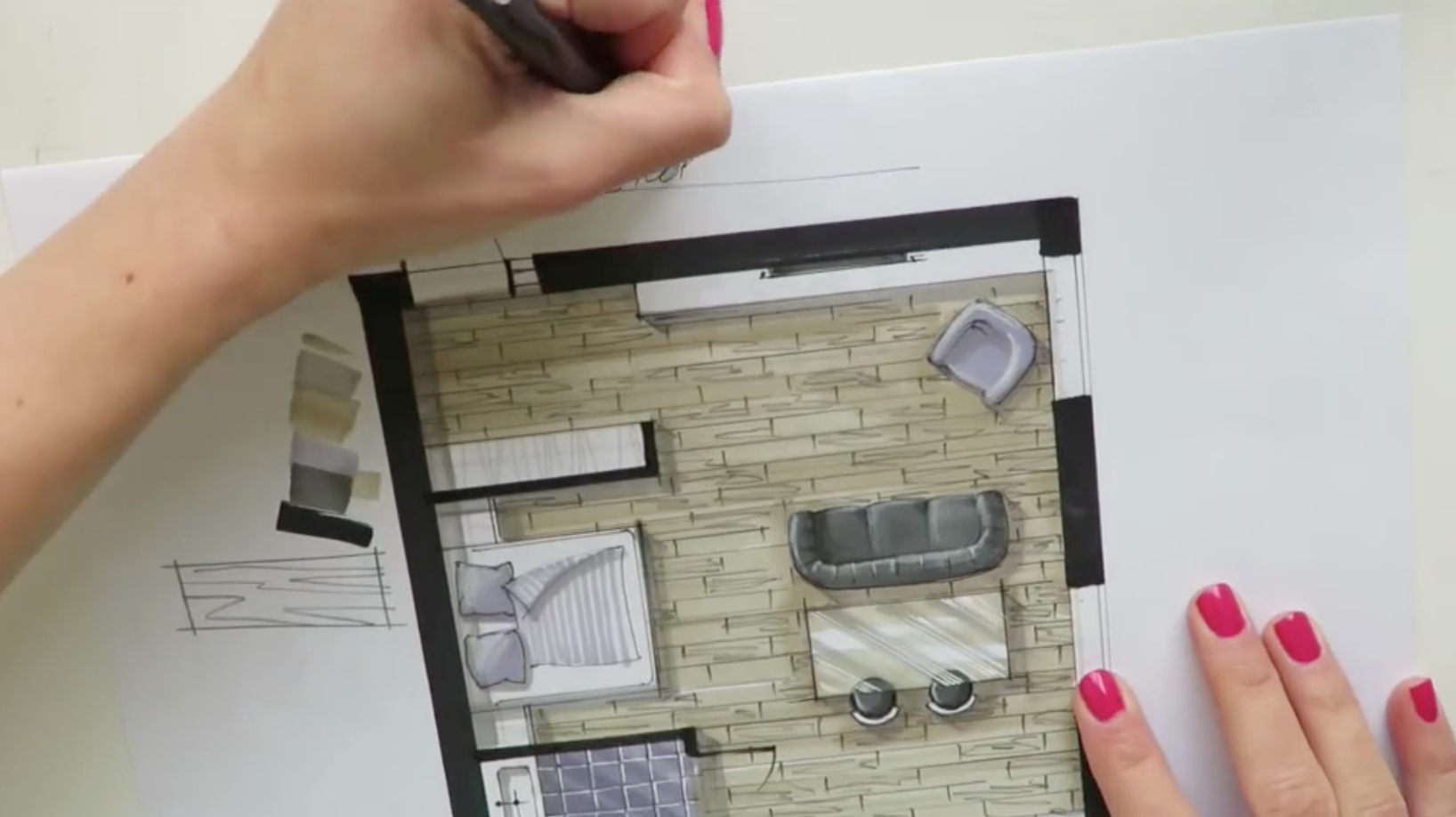 ---
+ Bonuses:

+ Danish sofa: velvet texture (22 min)
+ Quick sketch of Scandinavian interior (27 min)
+ Two video-tutorials on how to draw 2-point perspective
+ Step-by-step sketch-plan guide (PDF)
And more!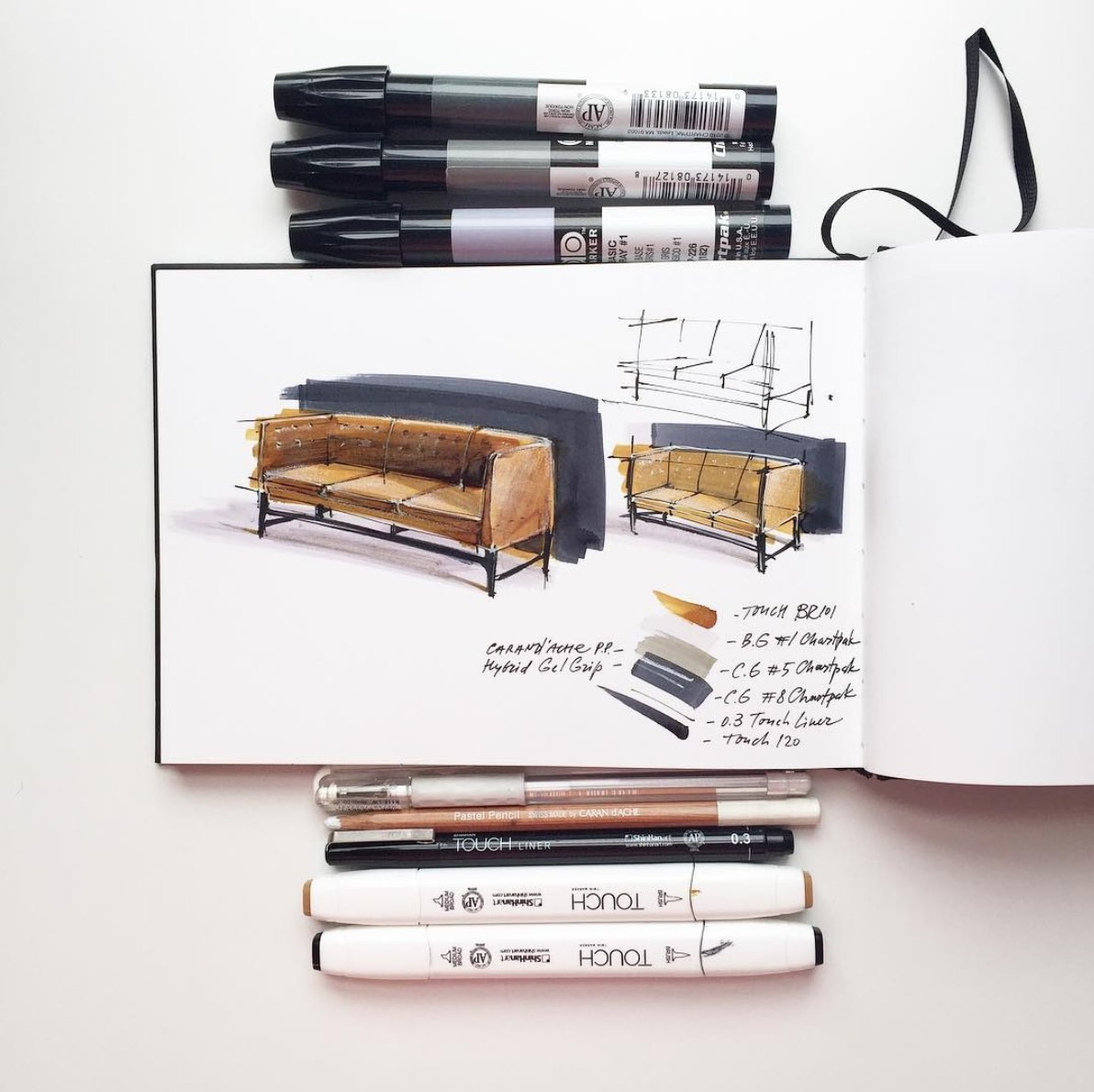 ---
👩🏼‍🎨
This is a great time and money investment for interior designers as well as interior design students!
---